Garmin Edge 810 Pack + City Navigator
Nº 10 of sales in Cycling watches and heart rate monitors
Delivery 1 working day
Only 2 units left!
Garmin
The NEW Touchscreen GPS bike computer with connected services and mapping compatibility for training, touring or hitting the trails
Cycling watches and heart rate monitors
010-01063-06
Characteristics Garmin Edge 810 Pack + City Navigator
Available in March
This is Your Edge
The touchscreen Edge 810 is designed for the cyclist who wants it all — navigation and advanced training capabilities in 1 device. It offers connected features¹ through your smartphone, including live tracking, social media sharing and weather. The 810 is compatible with optional detailed street or Ordnance Survey® maps, so it can guide your ride for touring, commuting or extended activities where you might need onboard maps and navigation. Because it's GPS-enabled, Edge 810 provides accurate data and navigation capabilities, anywhere in the world.
Track Every Detail
In addition to the mapping capabilities, Edge 810 records your distance, speed metrics, ascent/descent, grade and more. It's also compatible with ANT+™ sensors that measure your heart rate², speed/cadence² and power³. The activity profiles feature allows you to customise data fields and device settings based on cycling activity, such as road, mountain or touring. Switch profiles with a simple swipe of the touchscreen and your device will be set up to show the data you need for that ride.
Connected
Edge 810 offers a suite of connected features when paired with your smartphone (Apple® or Android™) and theGarmin Connect Mobile app. This allows you to gain comprehensive, accurate ride data from a dedicated device, while saving your phone battery. Edge tracks the data and sends it to your phone using a Bluetooth® connection. Stay connected and share all the details of your ride with friends, family and your social media contacts. You can post an update immediately after your ride or race with details from your completed activity. You'll create your posts via your smartphone, and the ride data's already there, thanks to the interface with Garmin Connect Mobile.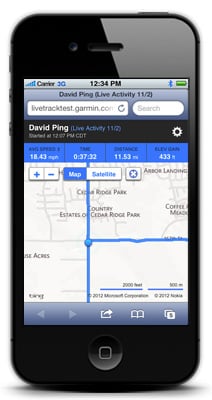 Live Tracking
The live tracking feature allows your friends and family to follow your races and training activities in real time. Invite followers using email or social media, so they can view your live data on a Garmin Connect tracking page. Once they get your email invite, they can click to follow and see your stats and location on the map.
Weather
Get real-time weather conditions, forecasts and alerts directly on the Edge 810 when it's paired with your smartphone and theGarmin Connect Mobile app. This feature is useful for extended rides, and it lets you keep your smartphone safe and dry, while the weather data you need is at your fingertips.
Wireless Dara Transfers
Now you can instantly store, share and analyse every detail of your ride. The Garmin Connect Mobile app allows for wireless uploads of completed activities from your device as soon as you finish recording an activity. You choose whether activities are automatically or manually uploaded. Once your ride has posted to Garmin Connect, your own "connections" can view them. You can also search your courses and workouts4 stored at Garmin Connect, download to your smartphone, then send directly to your Edge 810 — wirelessly. You can then navigate to the start of the course and use the Virtual Partner® feature on your Edge to race your previous activities in real time.
Purpose-Built Bike Computer
There's no better bike computer to guide your ride. Edge 810 is rugged, waterproof and has a 17-hour battery life. The touchscreen is easy to operate, even with a gloved finger and when wet. Mounting options include a new out-front mount² for heads-up positioning and a standard quarter-turn mount.
¹When paired with your compatible Android or Apple device.
²Included with some models, sold separately on others.
³When paired with third-party ANT+ power meter.
4Future release of Garmin Connect Mobile will allow you to explore and download courses and workouts from other Garmin Connect users





Specifications:
Physical & Performance:
· Unit dimensions, WxHxD: 2.0" x 3.7" x 1.0" (5.1 x 9.3 x 2.5 cm)
· Display size, WxH:1.4" x 2.2" (3.6 x 5.5 cm); 2.6" diag (6.6 cm)
· Display resolution, WxH: 160 x 240 pixels, touchscreen
· Touchscreen: yes
· Weight: 3.5 oz (98.0 g)
· Battery: rechargeable lithium-ion
· Battery life: up to 17 hours
· Water resistant: yes (IPX7)
· GPS-enabled: yes
· High-sensitivity receiver: yes
Maps and Memory:
· Basemap: yes
· Ability to add maps: yes
· Accepts data cards: microSD™ card (some versions include a City Navigator microSD card)
· History: up to 180 hours
· Waypoints/favorites/locations: 200
· Routes: Limited by memory space available
Features and Benefits:
· Heart rate monitor:yes (some versions)
· Bike speed/cadence sensor: yes (some versions)
· Foot pod: no
· Automatic sync (automatically transfers data to your computer): yes
· Garmin Connect™ compatible (online community where you analyze, categorize and share data): yes
· Virtual Partner® (train against a digital person): yes
· Virtual Racer™ (compete against other activities): yes
· Courses (compete against previous activities): yes
· Auto Pause® (pauses and resumes timer based on speed): yes
· Auto Lap® (automatically starts a new lap): yes
· Auto Scroll (cycles through data pages during workout): yes
· Multi-sport (changes sport mode with a press of a button): no
· Advanced workouts (create custom, goal-oriented workouts): yes
· Pace alert (triggers alarm if you vary from preset pace): yes
· Time/distance alert (triggers alarm when you reach goal): yes
· Vibration alert: (choose between alert tones and/or vibration alert): no
· Interval training (set up exercise and rest intervals): yes
· Heart rate-based calorie computation: yes
· Swim metrics (stroke type, stroke count and pool lengths): no
· Training Effect (measures impact of an activity on your aerobic fitness): no
· Customizable screen(s): yes
· Barometric altimeter: yes
· Unit-to-unit transfer (shares data wirelessly with similar units): no
· Power meter compatible (displays power data from compatible 3rd party ANT+™-enabled power meters): yes (records data approx. 1 per second)
· Temperature (displays and records temperature while you ride): yes
· Sport watch: no
Additional:
· Operating temperature: -20°C to +55°C
· Connected features via a smartphone: yes
· GLONASS: no
· Compatible with Garmin Connect™ Mobile: yes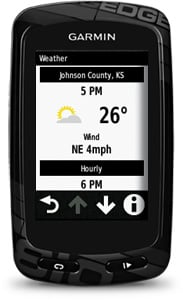 What's in the Box:
Edge 810 Performance & Navigation Bundle
· Edge 810
· Quarter-turn Bike mount
· Out front bike mount
· Premium heart rate monitor
· Speed/cadence sensor
· Data card preloaded with City Navigator® for Europe
· USB cable
· Manual
Comparative Garmin Edge 810 Pack + City Navigator
Shipping Garmin Edge 810 Pack + City Navigator
For all products stating "delivery: 1 working day" at fitnessdigital, normal delivery is the next working day. (occasionnaly 2 working days depending on the destination). Orders for 1 working day delivery must be placed by 13:30 from Monday to Friday. Orders are delivered on working days only from Monday to Friday.
At fitnessdigital we seek complete satisfaction for our clients and we know that delivery charges are an inconvenience and therefore fitnessdigital offers free delivery for orders over £200. On orders up to £50 delivery costs are £7.99 and between £50 and £200 the delivery costs are £3.99. The shopping basket automatically updates the delivery costs. At fitnessdigital we also take great care over the delivery and always do everything possible to ensure that the delivery times are respected. For this reason we work with transport leaders such as TNT, DHL, DACHSER, DPD or UPS.
Please note that if you order more than one product, you might receive them on different days and/or with different transport companies; in this case too we do our very best to respect delivery time of all the products ordered.
The transport carriers will deliver to the ground floor entrance of the building or property. Delivery does not include taking the merchandise up to a first floor nor does it include installment.
Not at home for the delivery? If an attempt at delivery is made and there is no one at home, the transport company will leave you a note instructing you to contact them so that you can confirm a new delivery date. When the transport company delivers the goods, please check the following:
That the number of packages coincides with the number indicated on the delivery note. If the number of packages does not coincide, please note this on the delivery note before signing for the delivery.
That the packaging does not show any signs of being misshapen or damaged. If you have any doubts, make a note on the delivery note about the appearance of the packages and get in touch with us.
***If the warranty is longer than two years, it will be shown in the product description.
Warranty information
FitnessDigital.com is an official distributor, therefore we can
WARRANT THAT:
The product is new
The product comes in its original packaging
As we are official distributors, we offer after sales service for all the products of this brand
The brand
Dr. Min Kao co-founded Garmin Corporation with Gary Burrell in October 1989 to integrate Global Positioning System (GPS) technology into navigation devices for multiple markets. Since its creation with 1,000 employees the company has grown and has now more than 9,200 associates in 35 offices worldwide. Garmin is a leading, worldwide provider of navigation and fitness products. They are committed to making superior products for automotive, aviation, marine, outdoor and sports that are an essential part of their customers? lives.
Garmin offers a wide range of products all over the world. Their user-friendly products are not only sought after for their compelling design, superior quality and best value, but they also have innovative features that enhance the lives of their customers. Garmin GPS solutions are a key part of today?s most useful, versatile and cost-efficient fleet monitoring solutions. With Garmin on your side, drivers and dispatchers work together to improve customer response and optimize fleet resources to achieve lower costs and higher profits.
Payment methods Garmin Edge 810 Pack + City Navigator
Bank TransferNo surcharge
Your order will be sent upon receipt of a transfer of the full amount. Your order will be sent when completed. All transfers must be made in £.
Credit cardNo surcharge
Pay securely with the following credit cards: VISA, VISA Electron or Mastercard
If you have a credit card that allows you to purchase in internet, and you have a code or password that allows you to pay on-line, this is a good and comfortbale way to pay for you. Payment on-line method that your order will be paid for right after checkout, and is therefore very fast. fitnessdigital.co.uk is 100% secure. We guarantee the safety of your credit card information. All credit card information is handled with the utmost security and will never be released to any other organisation under any circumstance.
PayPalNo surcharge
Your order will be sent upon receipt of the PayPal confirmation of payment of the full amount. What is PayPal?
fitnessdigital could sometimes ask a customer to use a certain payment methods ( for instance if the information given to us is not complete or seems to include false information). This could be the case when we are not able to properly identify who the customer is. We could sometimes ask for specially added documents as well, in order to prove payment
Delivery costs, delivery time and terms and conditions for free delivery are the same for all payment methods
Ask the expert about Garmin Edge 810 Pack + City Navigator
In this section you can find answers from our users and experts
0 Questions 0 Answers
User reviews about Garmin Edge 810 Pack + City Navigator
| | | |
| --- | --- | --- |
| 5 Stars | 0 % | (0) |
| 4 Stars | 0 % | (0) |
| 3 Stars | 0 % | (0) |
| 2 Stars | 0 % | (0) |
| 1 Stars | 0 % | (0) |